XP-PEN will reward 12 Drawize Players with their all-new Deco Fun graphics tablets. Players can compete in two different categories: playing our drawing and guessing game in Public Rooms or competing in our Daily Challenge!
Deco Fun Graphics Tablets
Study ● Work ● Game ● Draw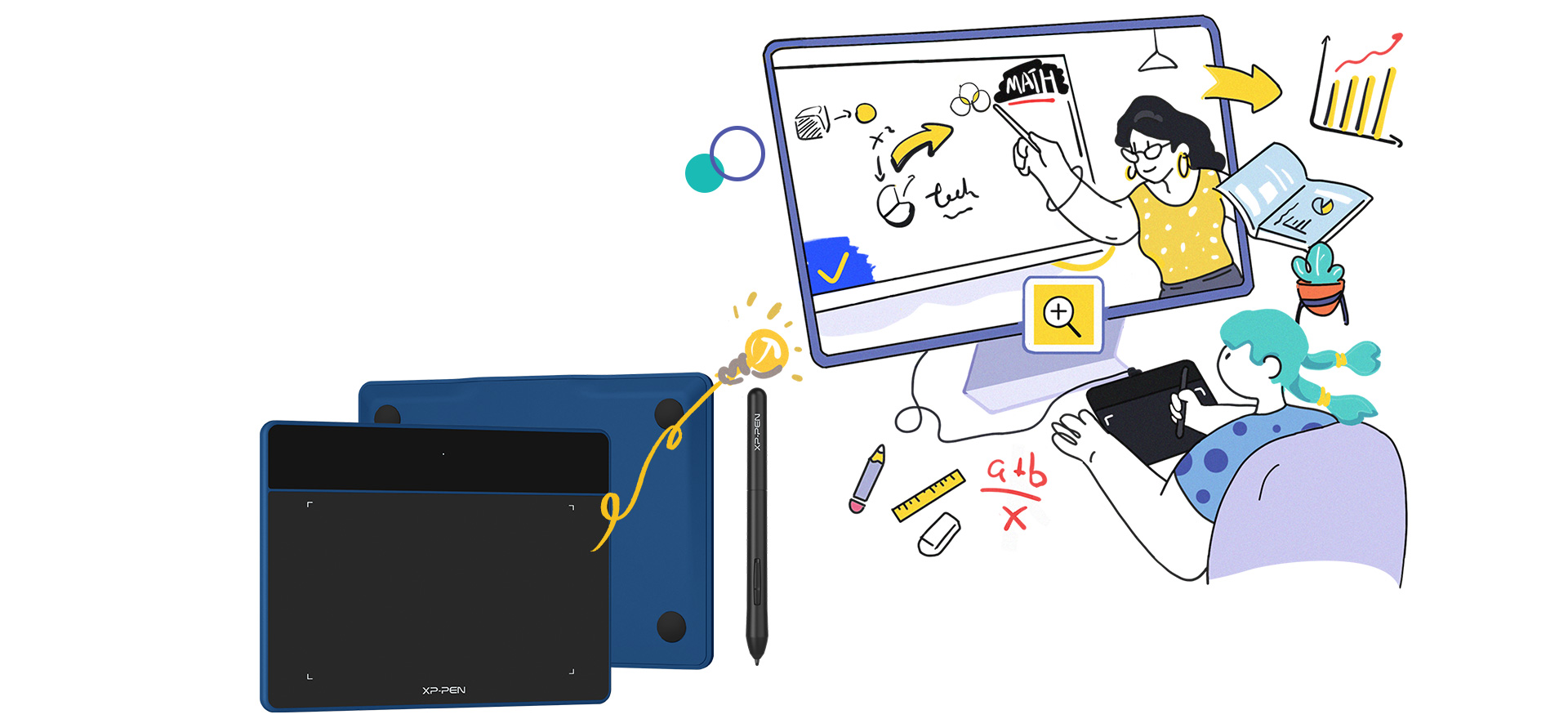 Using Deco Fun for remote learning allows both students and teachers to share their thoughts and ideas in real-time. With infinite brushes, colors, and patterns options, you will be able to create and share tutorials, animated stories, and presentations effortlessly. This enables you to collaborate and interact enjoyably during remote learning!
In remote meeting, Deco Fun enables you to express important points more effectively. You can write or sketch on the shared content using graphs, lines, and comments. It is an effective way to deliver ideas to your colleagues, supervisors and your clients. Additionally, you can use Deco Fun to quickly sign contracts and documents digitally. More quickly, more opportunities!
Deco Fun supports 8,192 levels pressure sensitivity and a 60° tilt function. Whether you are sketching, color painting, designing, or doing other creative work, it does a great job! You can even draw on smartphones and tablets with Android system. Let's get creative now! *Deco Fun S/L support the 60° tilt function.
For even more info on Deco Fun series graphic tablets please follow the link XP-PEN Deco Fun
Promotion Rules
As mentioned above, there are 2 categories: Public Rooms and Daily Challenge!
Each week during Promotion (3 weeks in total) 4 winners will be selected as follows:
Public rooms competition

1st place on "Previous week" leaderboard - Deco Fun L
2nd place on "Previous week" leaderboard - Deco Fun S
3rd place on "Previous week" leaderboard - Deco Fun XS

Daily Challenge

1st place on "Previous week - Daily Challenge" leaderboard - Deco Fun L
Winners will be selected each Tuesday for the previous week.
The Promotion starts on May 10, 2021. and lasts until May 30, 2021. Please follow the link for complete rules: Promotion Rules
*Drawize XP-Pen Promotion ("Promotion") is open to all players of Drawize, except those located in countries or territories XP-PEN can not reach, which includes: South America, Middle East, Africa, and India.
How to enter the Promotion
You should enter your email and accept the promotion rules to enter the Promotion and have a chance to win. To join now, please follow this link Enter NOW