Drawize, like most of the Web, relies on ads to offer a free experience to our users. But ads sometimes can be annoying, and some users prefer to pay for the service and use it without ads. We were getting a lot of inquiries from people asking if it is possible to play Drawize without ads. And, now it is: you can choose a plan for yourself or one of the plans that make the game ad-free for all players while playing in your private rooms!
Available plans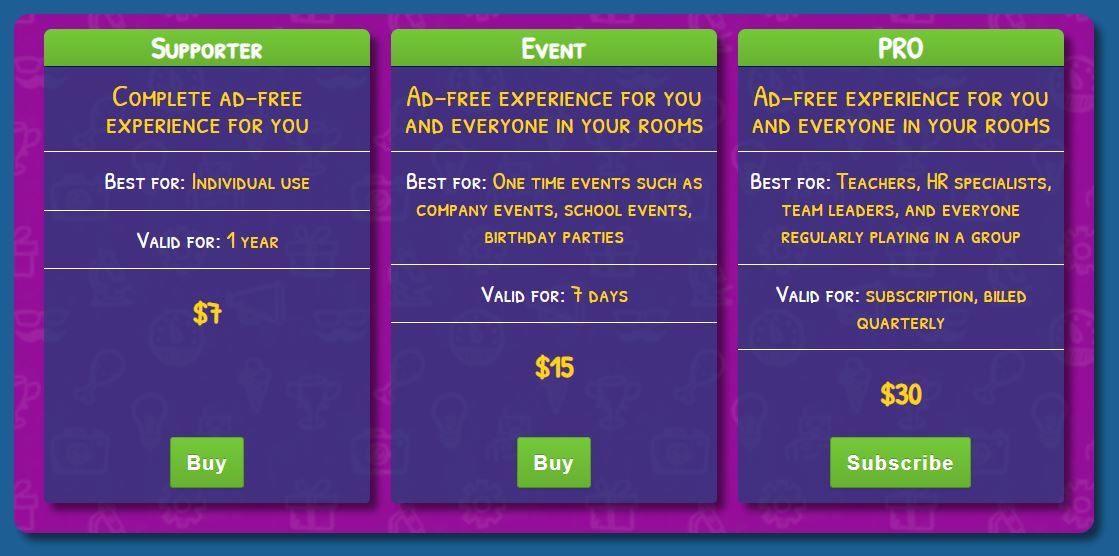 We have three different plans, made to fit different user needs.
Drawize Supporter
Supporter is a plan best suited for personal use. You pay a one-time fee, and you have a completely ad-free experience for the next year! It will not renew automatically, but you can buy it again after one year!
Price is very low, only $7 for a 365 day of a premium ad-free experience.
Drawize Event
Event is a one-time purchase best for people who are organizing a one-time Drawize event. With this plan enabled, all players who play in private rooms you create will have an ad-free experience while playing in your room! The plan is designed for one event, but actually, it is valid for 7 days, so you can organize any number of events during that period - you and your players will have an ad-free experience for the next 7 days after your purchase!
Having a price of only $15, you get 7 days of ad-free experience for you and any number of players playing in your rooms!
Drawize PRO
PRO is a subscription, unlike the Supporter and Event plan. It offers the same benefits as the Event plan - an ad-free experience for you and all players while playing in your rooms, and it lasts until you cancel it. So, it is best for people who use Drawize regularly for work or fun: for teachers using Drawize in the classroom, HR specialists organizing fun activities for their work colleagues or anyone else who organizes Drawize games often!
Price is $30 paid quarterly. So, only $10 a month for any number of games and any number of players.
How to enable one of the premium plans
It is super easy, just go to your account settings and click the Upgrade button. Plan chooser will pop-up, then just select the plan you like and make a purchase securely without leaving our site. Or, just click this button to choose your plan now:
To open your account settings, just click the gear icon in the top right corner on the Drawize main screen.
NOTE: we highly recommend you to register your account using the email of Facebook, so you will never lose access to your account and purchased plan
Educator's discount
We would like to make Drawize more affordable for teachers and all others working in education :) If you are an educator and would like to use Drawize PRO or Drawize Event, please contact us at support@drawize.com using your work email to claim your 50% discount!
Drawize Affiliate program
We run an affiliate program where you can earn commission by recommending Drawize premium plans. If interested, please learn more in our post on Drawize Affiliate program.