Drawize is often used in schools for learning and fun and companies during different company events and team buildings. Our affiliate program is an excellent way for teachers to make extra money while helping their fellow teachers make teaching more fun and engaging! Also, if you are working in HR, you can recommend it to your colleagues and get commissions.
You earn commissions when someone purchases our Premium Plans through your affiliate link.
Drawize Premium consists of three paid premium plans - each of them offers an entirely ad-free Drawize experience. Some of them also cover all people playing in the host's rooms - that's ideal when organizing a Drawize game in school or at work where you cannot tolerate any ads interrupting the gameplay!
Available plans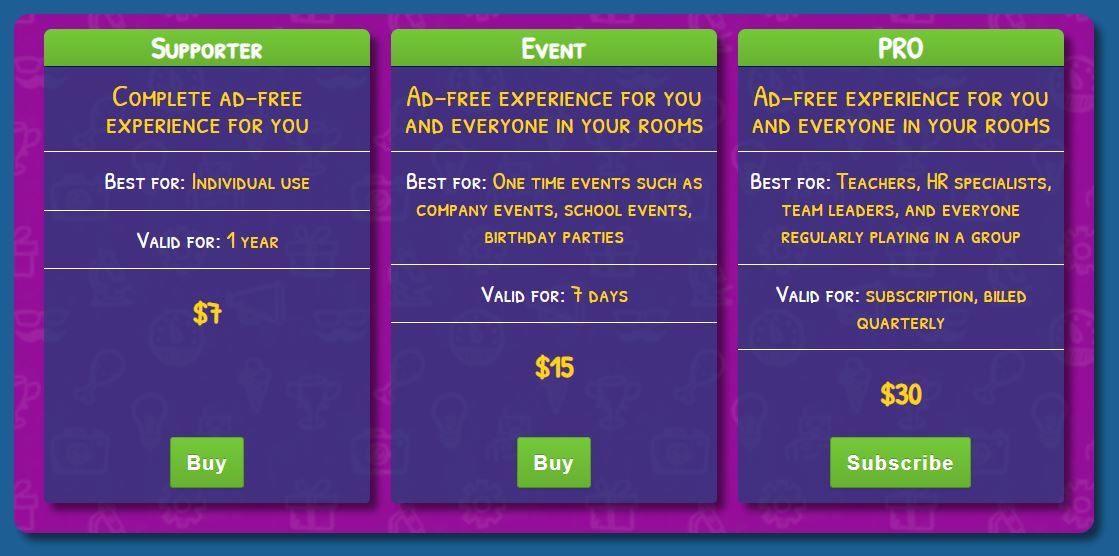 How to join?
It is straightforward; our Affiliate program is managed through a well-known Affiliate platform named ShareASale. To join our program, please click here or click the button below. If you do not have an account with ShareASale, you will be prompted to create one. Once you have your account created and approved, you will be able to join our Affiliate Program. You will find all resources needed there: banners, text ads, and coupon codes. Also, we will offer special promotions and bonuses from time to time, so please stay tuned!
What do I get?
We offer a commission of 25% on each sale made through your affiliate links (sale is attributed to you if the user who visited Drawize through your link makes a transaction up to 60 days after using your link!)
There are also special bonuses; for example, you get additions of $5 on each transaction of $15 or more during your first 30 days in the program :)
Who can join the Drawize Affiliate program?
Anyone is welcome to our affiliate program. That being said, most of our Premium clients are educators who are organizing games for their students, or Team Leaders, HR Specialists, and others in charge of organizing different team events at companies.
If you can reach either people working in education or HR, it can be of great benefit to both for you and them :) This is an excellent opportunity for teachers to earn extra money through their educational blogs or social networks.
Where can I promote it?
It is up to you; you can use the banners provided or share a text link anywhere. Here are few ideas:
Write a blog post
Publish a video review on YouTube
Post on your social profiles
Promote during your Twitch stream
Educator's discount
We would like to make Drawize more affordable for teachers and all others working in education :) You can offer a discount coupon code on Drawize PRO or Drawize Event to all educators, making it more affordable for teachers while increasing the chance of conversion and your commission!
How is Drawize used in the Classroom or at work?
We have blog articles covering those topics! Please read our post on using Drawize in the Classroom and another post on Drawize Teams - a game mode made for larger groups that you can use in the Classroom or for company events!
Need more info?
We will be glad to answer any questions you may have; please get in touch with us support@drawize.com